Microcement installation on the walls
Microcement coating is a great idea for wall design as it creates an original, unique pattern and texture on the walls.  An interesting wall finish can help you to create a modern and elegant interior. Microcement various colors and textures create stylish yet minimalistic effect; even one wall with microcement on it can make a substantial difference to your interior as well as improve the proportions of the room – enlarge or lengthen them.
To check out our short "microcement installation on the walls" video please click HERE
Q & A
How do I prepare my walls for the microcement installation? – the walls on which the microcement is to be installed should be prepared as good as for painting. Plastered walls with no cracks are most desired for the microcement installation.  The microcement is a decorative layer, and should not be used as a repair mortar, if you need to repair your wall, level it, fix the crakes then use our FIX ALL mortar which is a mortar specifically designed for microcement installation on irregular substrates, on tiles, substrates which needs to be level and  substrates with movement issues and cracks.
On dry-lined walls you can either do plastering or do taping and jointing. The basic difference between both is that ''When plastering an area we would apply tapes to all the joints in the boards. Then we would skim coat the whole surface of the plasterboard with plaster. If taping and jointing the same area, we would still tape all the joints then we would apply 3 coats of jointing compound to the joints only. Once these are dry we sand down the jointing compound to a perfect smooth surface.''(https://www.hilliermarsden.co.uk/tape-joint-finish.html).
Can I install microcement on the walls in my wet room? YES! Please click HERE to read our blog article regarding microcement installations in wet rooms.
Can I install microcement on tiled wall – YES,as long as the tiles are not moving and are properly attached to the wall. If the tiles are not moving, or falling off the walls then with the use of our ClaudiCemento FIX ALL system (two layers of mortar with fiber mesh in between),you can save both –  time and money, and apply our microcement directly on tiles.
Can I install microcement on external wall – YES! Whether we install the microcement outdoor on the floor, walls, or furniture, we always recommend performing tanking with our HYDRO FIX (aka FLEXY FIX) system prior to the microcement installation. This will ensure that no water ingress will damage the microcement from the inside. If the weather conditions are not very certain we also recommend building a temporary, waterproof construction where microcement will be installed, this is to protect it from rain, dirt, mud etc. during the installation, curing and drying processes. The temporary construction might need to also be heated as the required temperature  for the installation outside is between 15 – 25 C. HYDRO FIX (aka FLEXY FIX) is a form of tanking designed for microcement installation on substrates with moisture issues, mainly used in basements, outside areas, or any areas where there is a risk of trapped water in a subfloor. Microcement after impregnation with our solvent based sealer – Protector DUR Epoxy, it becomes waterproof. In the outside areas 3 coats of Protector DUR Epoxy should be applied with the third coat being applied 4-5 days later after the second coat application.
                                                     Installation by Lamos Art LTD
Can I install microcement if there are cracks and/or movement in the wall? firstly, try to assess the cause of cracks in the wall. Any structural movement such as fresh timber shrinking in a new built loft and/or kitchen extensions, house settling etc which cause cracks, might compromise the structural integrity of the microcement finish.  Microcement as a product has some flexibility within it, however if the levels of force are greater than the flexibility allow for, cracks can occur.
Once any potential movement has been eliminated you can fix the existing cracks and problems with our FIX ALL system.  Cracks can be opened and cleaned and then FIX ALL can be applied directly there, if the surface is very damaged with lots of cracks, then it is best to apply FIX ALL system throughout with a fiber mesh in between two layers. To see our short reel with tips on FIX ALL installation on a problematic subfloor click HERE.
Can I install microcement on the wall with dump issues?If you have assessed the substrate and discovered a dump or some trapped water in it, then this needs to be addressed before you start the microcement installation.  Microcement does not have dump proofing properties nor will it perform as a tanking material. Once microcement is installed, it is protected from the outside with sealers and therefore becomes waterproof. However, if there is a water ingress from the inside – so it comes from the wall on which we installed the microcement on, then this water ingress will damage our microcement. Therefore, it is crucial to do tanking in any areas where this might happen. As a rule of thumbs we recommend to always do tanking with our HYDRO FIX (aka FLEXY FIX)  system when we plan to install the microcement in basements and outdoor areas (including outdoor furniture). More on outdoor installation can be found HERE.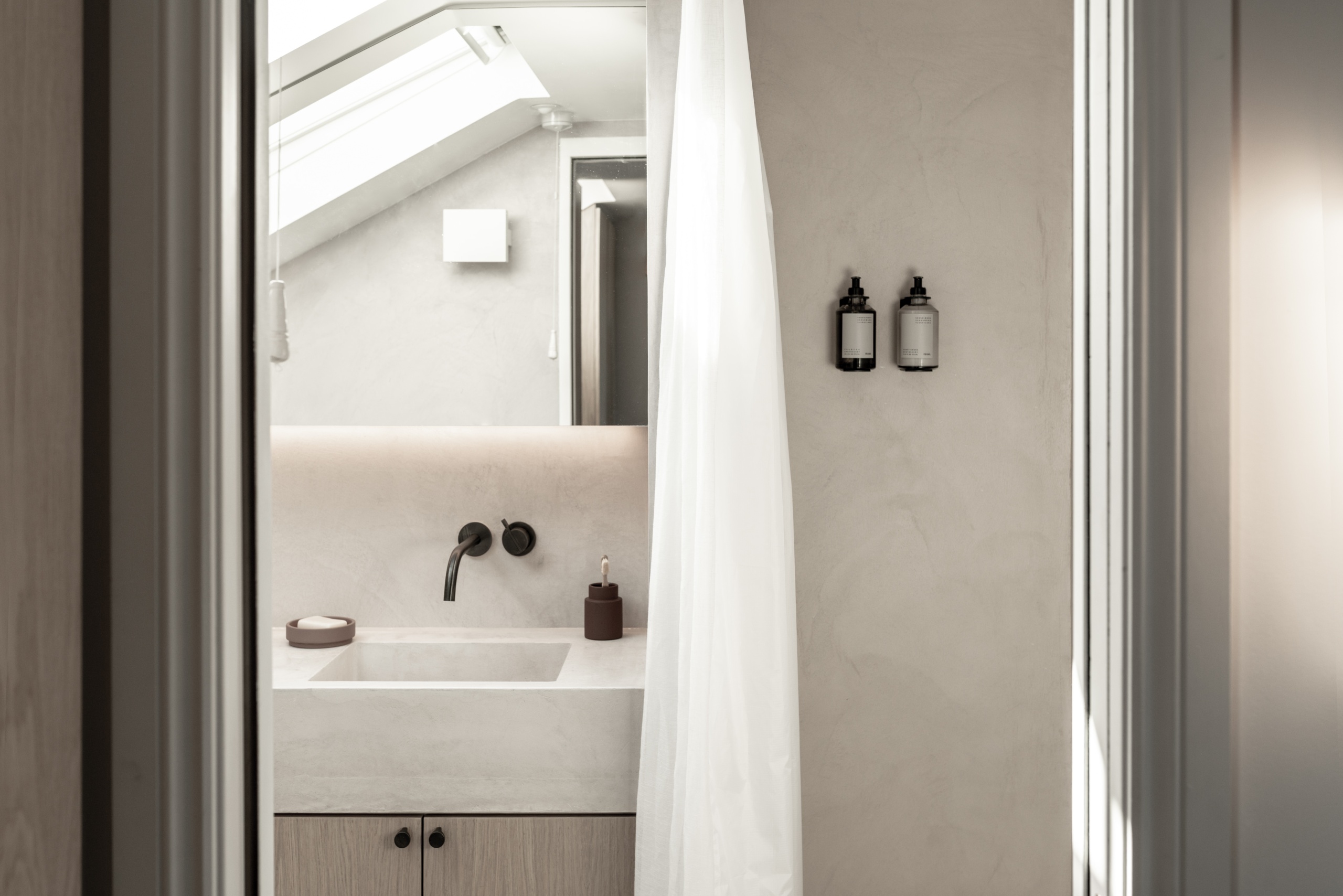 Installed by SOBO