Microcement represents one of the most desired industrial interior design styles.  Its concrete alike, raw and minimalistic character often makes people wonder if microcement only comes in grey colours and if it will make the room look dark? The answer is – No!
Microcement can brighten your interior as it reflects and strengthens natural light. It can be installed on all areas in your room, such as walls, floors, ceilings, stairs, furniture, walk in showers etc. Therefore, it will create a beautiful, modern, seamless finish which will give an illusion of more space and a sense of openness.
ClaudiCemento microcement is available in a very wide range of colours, therefore choosing this material does not mean that we have to surround ourselves with grey. However, there are many shades of grey – as we know ;), which are beautiful and complements any interior. Click HERE to see our colour chart.
Microcement fits perfectly with other materials such as glass, wood or metal. It gives a minimalistic vibe which can be easily decorated with accessories you have chosen to style up the room.
Tips:
1. Choose light and bright microcement colours if you wish the microcement to reflect the natural light in your room.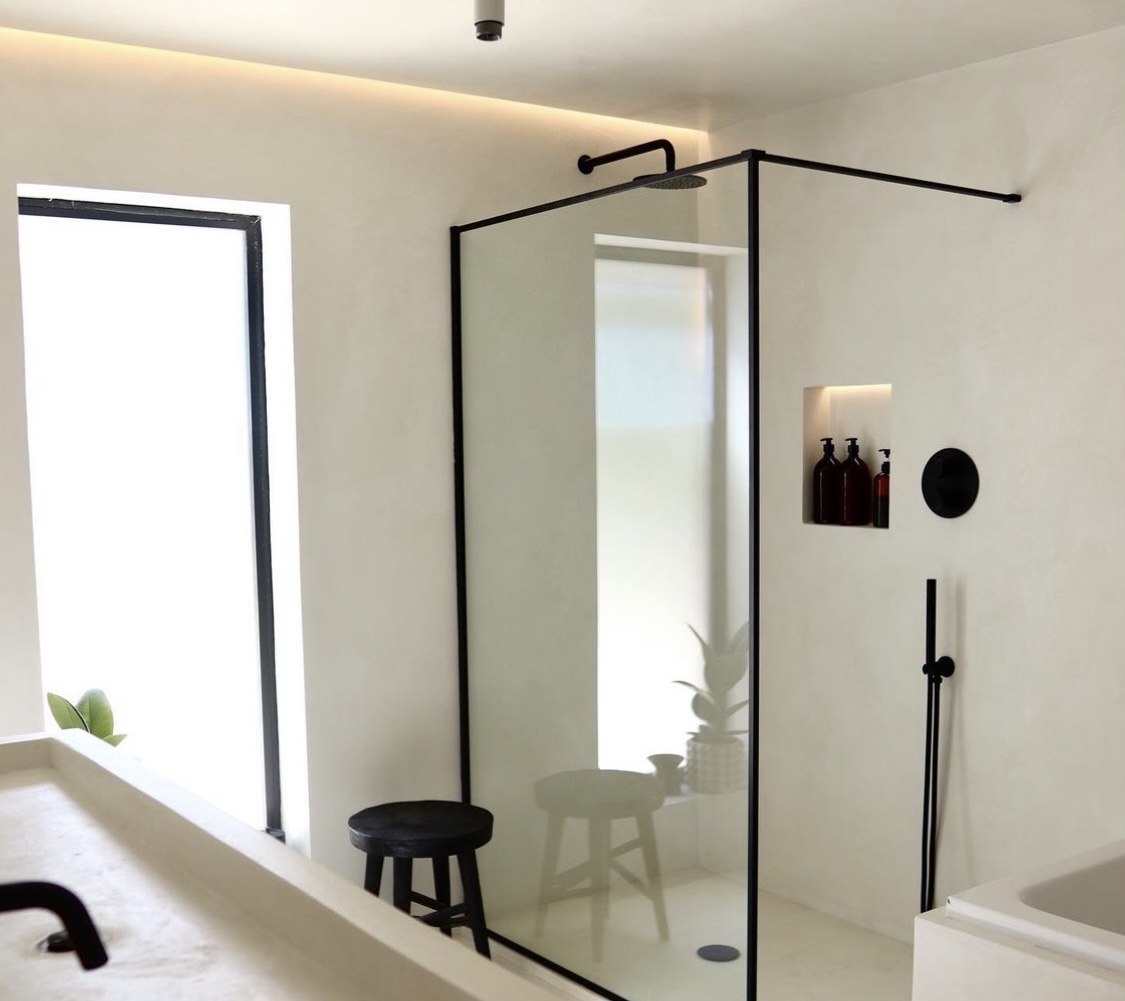 2. Do not be afraid of dark colours and contrast. Dark colours can also make a small room look larger, as they make the walls appear as if they were further away than they really are. Dark ceiling will create a nice contrast against any other material used in the room and make accents stand out. ClaudiCemento microcement colours that work very well with lighter coloured microcement walls are Black, Dark Grey, or Night Sky Blue.
3. Choosing a microcement colour which is 2-3 shades darker  than the wall colours will create a lovely, subtle contrast and add a bit of cosiness to your room.
4. ClaudiCemento colour samples are all made in ClaudiCemento microcement DECK. The darker colours on Microcement BASE will always come up circa 40% darker and on Microcement Fine circa 20% lighter. This is due to the difference size of the grain in Microcement BASE – think grain, Microcement DECK – medium grain and Microcement Fine – fine grain.
5. ClaudiCemento microcement comes unpigmented which is great, as you can play around with the pigments adding less or more pigments to the microcement mortar to achieve darker or lighter shades!